Summertime is here.....
At long last, the flowers are in full bloom and coats are a distant memory. Things are growing and we are making a pickle plan for the coming months.
We are also taking a bit of a step back from production as Andy is spending his time in Toronto the Ed Mirvish Theatre as a company member of Harry Potter and the Cursed Child. This means a bit of a change in the kitchen as we balance this new development with business and family time, and our output will be less than in previous years as he focuses his attention on this incredible show (which you should ALL go see).
This does not mean we are going anywhere, and we will keep doing what we can do to keep you in pickles.
Also, mark your calendars for the Niagara Handmade 12th Edition Holiday Market, Nov 25-27 at the Niagara Falls Convention Centre. We hope you'll drop by and see us then.
In the meantime, you can find Pickles Eh! products at the following stores:
The Milky Whey, Stratford, ON
The Little Green Grocery, Stratford, ON
Meme's Cafe, New Hamburg, ON
Legacy Greens, Kitchener, ON
Decendants Brewery,Kitchener, ON
Zero Waste Bulk , Waterloo, ON
Upper Canada Cheese, Jordan, ON
13th Street Winery, St.Catharines,ON
The Exchange Brewery,Niagara-On-The-Lake, ON
Vineland Estates Winery, Vineland, ON
Fielding Estate Winery, Beamsville, ON
Springridge Farm, Milton, ON
HotBlack Coffee, Toronto, ON
Riverside Kitchen, Toronto, ON
Rustic Cosmo Cafe, Toronto, ON
There will be more places to find us soon - stay tuned!
If you would like to place an order or have any questions, please feel free to reach out to: hello@pickleseh.com.
Pickles Eh!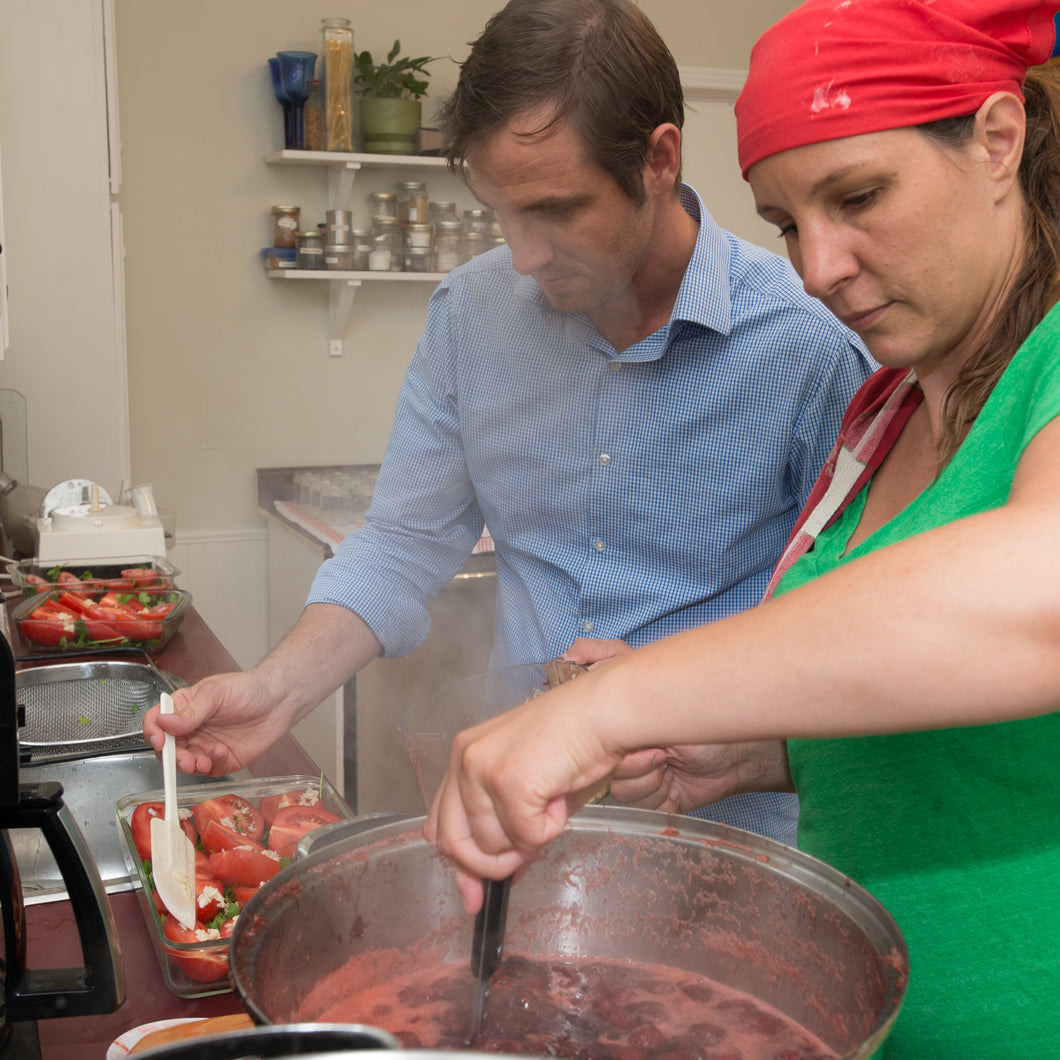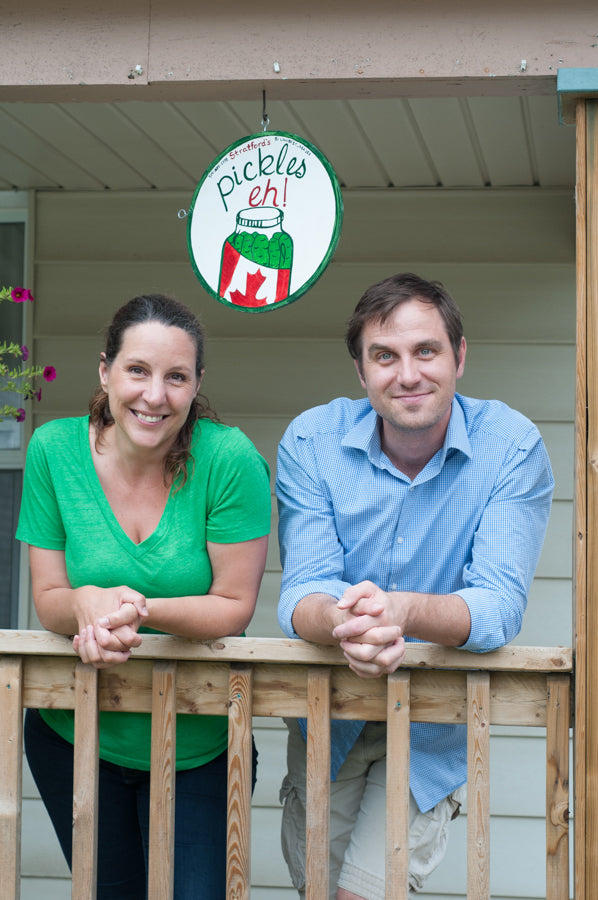 What we do.
Pickles Eh! makes small batch preserves with a focus on local and ethically sourced produce for people that care about where their food comes from. As well as pickles, we make jams, marmalades, chutneys, mustards and a variety of infused vinegars.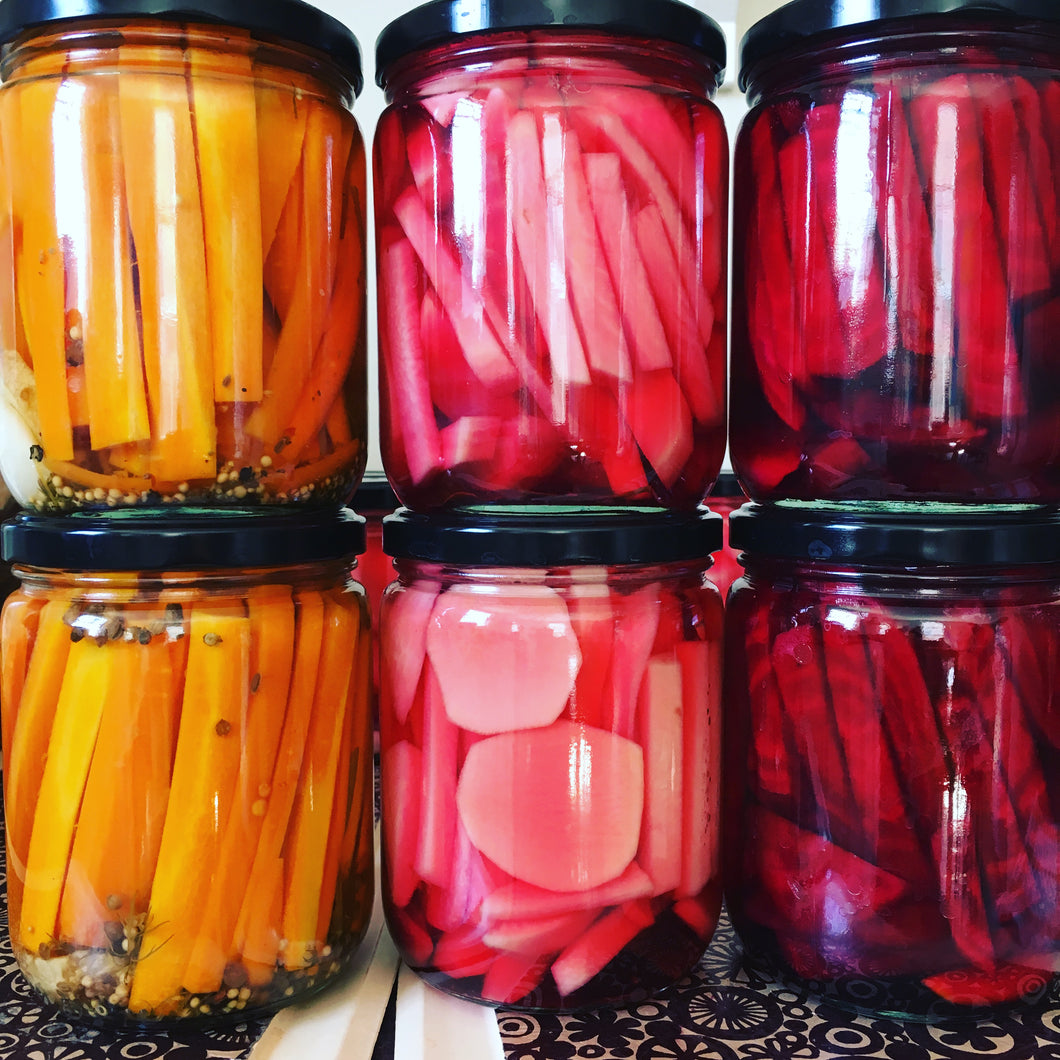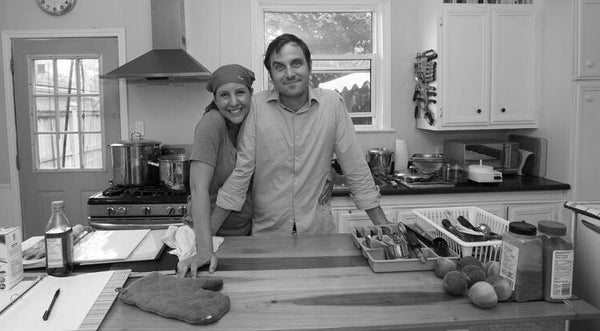 Who we are.
We are Andy Pogson and Dana Vranic. We, along with our team, make everything with our own hands. Why? Because it's better that way. It is our mission to help connect people back to the food that they eat by creating a stronger link between our customers, ourselves, local farms and businesses, and members of our community.  We believe that buying and investing locally, as well as knowing who makes our food, strengthens us and builds prosperity for everyone.
Testimonials
My husband says he doesn't like strawberry jam, but your Strawberry Jam with Vanilla Bean is disappearing from our fridge at an alarming rate.

Marg, Stratford, ON
Their products are incredible. I'm obsessed with the Pickled Beets. My lips and fingers are permanently purple!

Brittany, Niagara Falls, ON
I don't like mustard, and I don't like horseradish, but your Horseradish Mustard is amazing!

Chris, Hamilton, ON